Revival of Traditional Indian Artistry
Dora Deka revives traditional Indian artisan techniques with her social impact homewares label, Kolka
An article by The Fashion Advocate, Claire Goldsworthy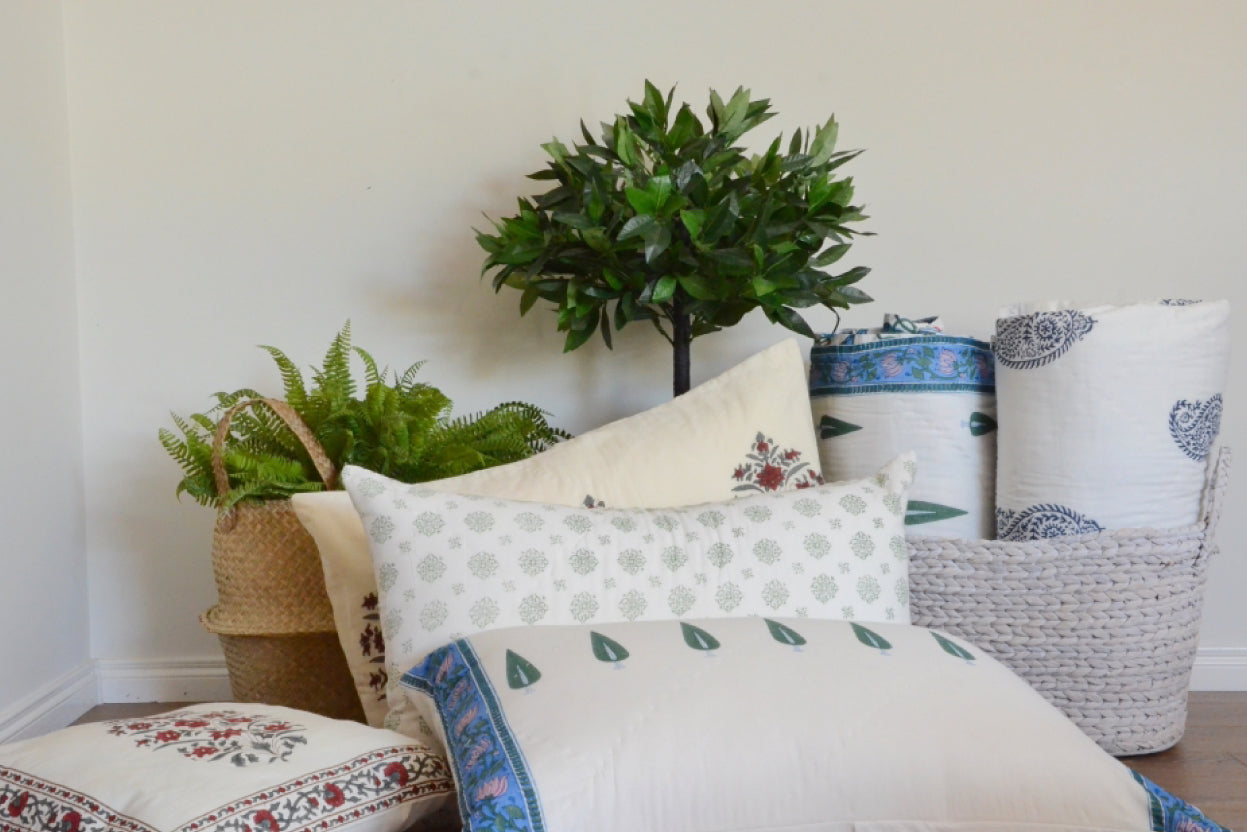 The centuries-old Indian art of hand-block printing is amidst a revival.  It's a traditional Rajasthani way of life and an income source for the hundreds of communities in the area. It's also the inspiration behind Dora Deka's ethical and sustainable homewares label, Kolka, and a celebration of artistry, allure, craftsmanship and friendship.
Handed down generation by generation for hundreds of years, block-printing is an indigenous traditional craft with a strong place in modern textile design, and with the help of Kolka's 100% natural and biodegradable homewares range, it has the power to create positive social impact. 
Dora's Melbourne based homewares label is founded on fair-trade principles and ethical values, and it is representative of the humble paisley; a sign of abundance and the totality of life and happiness within a drop.
True to its meaning, Kolka promises the happiness and totality of life by being in the company of fresh, natural, durable and breathable products, and Dora's own cultural values and heritage are interwoven in each design too... 
How did Kolka come to be?
Kolka was born out of love of creating beautiful homes using eco-friendly and sustainable methods that support fair-trade practices. Kolka is an ethical collection of handmade bed and kitchen linen, and a celebration of artistry, glamour and poise. We spent years researching and exploring craftsmanship across several countries, and finally, it was in the twisting alleyways of the Royal City of Jaipur that the magic of Kolka truly came alive and our story began.
The Kolka range is fair-trade and ethical. Why are these values so important to you?
Being ethical is one of Kolka's core values and we take it very seriously. Kolka products are ethically handmade and traded, so we can give back to our community and also take pride in the process. We practice ethical sourcing by ensuring that our products are traded in a responsible and sustainable manner. Our craftsmen and women work in safe environments and are treated fairly. We factor in environmental and social consequences in all our business decisions and we are proud to support our qualified craftsmen and women who have been passing on their traditions, skills and knowledge from one generation to the next. We love sharing their stories, without whom we won't be here, hence, these values are very important to us. Our workers come from a tradition of hand-block printers and are a proud part of Kolka's existence. By buying hand-block printed products from our craftsmen and women, we can commit to the cause of their sustenance and contribute towards preserving an ancestral heritage. 
Why are you passionate about sustainability?
We're not just passionate about sustainability but we truly practice it in all its forms. Sustainability is important to us for many reasons, mostly for environmental quality and social impact. We believe that in order to have healthy communities, we need clean air, natural resources, and a non-toxic environment. Textile production can have a harmful impact on the environment in several ways; traditional cotton farming uses lots of water and chemical sprays, harmful herbicides and toxic pesticides. Textile dyeing, printing, and finishing processes often use toxic non-biodegradable chemicals too. By practising sustainability, we want to be part of the positive change. We may only play a small role in saving the planet from harmful wastes, but we feel it's an important one.
Fairtrade organic cotton is sustainable, renewable, and biodegradable, making it an excellent choice as an environmentally-friendly fibre throughout its entire product lifecycle, and we use only pure organic cotton and natural fibres in all our products. Natural fabrics are kinder to the skin, cause minimal ecological harm and empower indigenous communities that are involved in its production and design. We also follow the ancient tradition of slow fashion manufacturing techniques that give consumers a new opportunity to use their everyday choices for positive social impact.
We have successfully revived the age-old dying craft of block-printing. It involves different elements from sourcing eco-friendly fabrics, toxic-free dyes, recycling the water used in manufacturing and also improving social working conditions in our manufacturing unit.
Kolka is an eclectic mix of minimalism, elegance and a fair bit of quirk which seamlessly comes together when traditional and contemporary aesthetics merge. Sustainability doesn't necessarily have to compromise with style.
You utilise Rajasthani hand-block printing techniques, as well as traditional dyeing techniques and motifs from the Mughal era. Why?
Hand-block printing is a traditional art form from India that uses carved blocks of wood, dipped in bright colours and stamped onto cotton or silk fabric to create colourful textiles. Artisans traditionally use natural vegetable dyes for printing, and the traditional block printing technique uses a different block for each colour of the design. The final design is a combination of many smaller patterns and motifs, each having a different colour. The printing process requires intricate skills and time to stamp the repeating colours and patterns on the fabric, layer by layer and colour by colour. The slight irregularities and imperfections that are a result of hand-work create an artistic effect which is characteristic of block printing. 
It was once a flourishing art and attracted customers from all across the world, but it is now struggling to survive. Brutal competition, use of chemical colours, and the rise of digital and screen printing all add to the artisans' woes. It takes a few weeks to create a unique piece of cloth with hand printing, but it takes only a few hours for digital or screen printing. We want to save and revive this dying art which is passed down from one generation to the other and help artisans whose livelihood is dependent on this handicraft. 
And why Mughal motifs? Ornamental motifs are some of the most important cultural representations of Mughal Indian art, consisting of a floral spray with stylized leaves and flowers. They are beautiful and symbolic prints, and they create such unique designs.
What does 'Kolka' mean?
'Kolka', also known as the humble paisley, symbolizes the abundance and totality of life and happiness within a drop. And to be true to its meaning, our promise is to give our customers the happiness and totality of life by being in the company of fresh, natural, durable and breathable fabrics.
Do you visit your suppliers?
At Kolka, we source our products directly from artisans from tiny craft villages across India, mostly from the exotic state of Rajasthan. We strongly believe in our craftsmen and women and the skills and heritage that they bring to each of our products; our community are as beautiful as the product itself. We visit our artisans on a yearly basis (sometimes half-yearly) to check the production process and to ensure our products meet global standards, and that ethical practices are upheld. 
All the cotton used in our products is sourced from organic farms in India, grown by small-scale farmers who do not use harmful chemicals and pesticides, and it gives communities access to fair trade. From seed to shelf, we can assure that all production phases are transparent too. Our strong values in quality are deep-rooted in longevity with timeless aesthetics, and products from Kolka are little treasures in our customers' homes.
You donate some of your profits to help educate underprivileged children in India. Why is this cause so important to you?
The statement, 'Children are the future of the nation', stops making sense when more than half of India's children between the age six and 14 do not get basic opportunities like going to school. For the underprivileged people in India, education is perceived as a high-priced luxury. If, by sponsoring an underprivileged girl in India to provide her access to quality education, I could make a difference to someone's life and to the country - why wouldn't I?!
What are you working on at the moment?
Currently, I am working on a very fascinating style of hand embroidery craft from the eastern part of the country, popularly known as Kantha. Kantha quilts are a major trend in the bed linen industry right now. Made entirely by hand, the simplicity of the stitch and the intricacy of the design gives it a stylish, sophisticated and elegant look. I love pairing Kantha quilts with bohemian furniture, layering them on beds to create rich patterns, and throwing a pretty unfolded piece on the living room couch to add some warmth to the décor.
To support Kolka's social impact reach, decorate your home with traditional artisan homewares and pay it forward. Shop Kolka's organic bedlinen range at kolka.com.au.
The Fashion Advocate x